Day 7 : 12th June 2009
(Destination : Darcha, Distance Covered : 150kms)
We woke up quiet early today around 5am. All of us knew that the real endurance journey will start from here for next few days. Now we will have to test our actual potential of our body & our machines in coming days. We left the hotel for our journey by 6am so we can pass through before the traffic starts increasing till Rothang Pass. Bye Bye Manali.!! Before everything, First went to the fuel station for a tank full & filling up the empty cans of 20Ltrs. The only bike we could tie this was the macho bullet of Prasad as it was fitted with a Ladakh carrier. And we started, even the traffic was not much, but there where fairly good amount of vehicles passing by & oncoming. The altitude started rising, climate started chilling, temperature reducing & now for the first time we started feeling power reduction in our bikes which we where been expecting. The roads where truly very bad, all ice-water passing, roads started turning into dirt tracks & sometime dry having rocks around & sometimes even like desert with sand. That was fun taking turns like in dirt biking with the help of your feet. Here we saw a couple from Switzerland on their respective bikes Kawasaki 650cc Motocross. Dont know the exact name of the bike, but yes both, guy & girl where on their own bikes. It had the typical motocross tyre. Roads full of mud where making our time really hard & to add onto this situation the bike started loosing power. We could not even get on the 3rd Gear till we reach Rohtang. The thing which kept us getting excited was the terrific view. Snow getting nearer, mountains all around, valleys next to you. At some points the roads are extremely dangerous. Need to be very careful on these. My tyre was performing very well as it had hard compound with big blocks & was the best suited for this kind of terrain (MRF Meteor). Finally as we where riding, suddenly snow started passing by next to us. We wanted to stop desperately & touch it but we knew a huge Snow Land waiting for us ahead. Atlast we made to our first stage "Rohtang Pass" after a descent top speed of 30-35kmph ;). All surrounded with total snow around. Hardly any no-snow land can be seen. Mountains full of snow. I finally touched the snow & took in my hand. As promised I hit Gopi & others with the snow ball, VOW it was fun man.! The climate was damn chilling but our feeling was so immense that we started enjoying.
Pix time..!!
Sign board of Rohtang
Gopi getting crazy..
Our bikes too enjoying the chillness... That means no more engine heating.. yupee.
finally Me & Prasad going nuts.. its obvious..
:)
prasad trying his feets on
da Winzeeeee
Shoe Snow..
gopiiiiiiiiiiiiii
Gopi.. where are the safety gears...
Back to the business of Posing
'X' Man..
skiinnggg
Winzeee.. always smiles..even inside his helmet
U want me to hit u..!!
We could also feel the lack of oxygen a bit & hence breathing problems.
Rohtang Pass is on 13,050 Feets, 50kms away from Manali & a popular tourist place, hence lot of crowd could be seen there.
People come here for skiing & other snow games. We didnt had much time in hand as had to reach much further & most importantly didnt wanted to loose stamina by playing around. There was small stall which had some eatables like soups, omlet, maggie. We decided to hog something quickly & leave. The stall was pretty crowded & the orders given where coming quiet late. Prasad decided to help the lady by preparing omlets for us by himself. After finishing this stuff & getting little satisfied with snow we decided to resume the ride.
The journey was getting beautiful inspite of roads not so good. But the place we where in, was indeed a heaven. Atleast I was experiencing & seeing this kind of thing in real for the first time in my life. It was unbelievable. I was feeling more on the top of world after looking at my bike & realising I have come on my bike riding all the way from my home & the feeling was just incredible. Love my bike, "Yes, she has bought me here. Thanks to her..!!" I must have praised & spoke with my bike numerous time on the journey while riding hundreds of kms. Even though being in a group ride, while riding, a rider is alone with his bike. We couldnt continue our journey without taking 'n' number of breaks. The view was turning so marvelous & you can be damn sure now, this is the place where definately GOD must have lived/still lives. Trust me guys we where lucky enough to find lots & lots of snow throughout our journey, therefore we concluded that June is the perfect month to be here.. Not so warm, not so chilled, perfect snow, perfect freezing.. Complete Worth It..!! The mobile networks had dissapeared. No connection from the outer world. We where worried as how will we be able to inform our parents daily. Till we reach LEH, the network wont be there.
After couple of kms, while taking a curve downhill there where some bunch of people standing & they all started shouting at prasad for his headlight on. Prasad was distracted & while taking the turn he has a small skid. Didnt fall though, just his bike got leaned. Footrace broke. We spotted a small temple where we also decided to stop & fix the footrace. Dont have tell you again, there was a delighting view all over & a waterfall to top it up. ;) Hence the pix follows ..
da lovely Waterfall..
staring at the mountains
the temple where took a break & prayed the god.
the Golden Stone..!
gopi trying to fly..
isnt it beautiful
giving u an opportunity to pray the god now.. ;)
winzee waiting & gopi is coming.. spot it..!
winzee got covered
do we really have to go there?
desi version of Fantastic 4, no chick..
Prasad
winzee was only taught this pose..
see winzee doing the same again.. phew..!
the looooong waterfall around
refreshing rtr
Meeeeeeee
We continued finally, somehow we tied up the footrace of the bullet. The roads where not so good, but OK. Now we where started getting adjusted with the terrain condition & roads where ice-water crossing & slush is not there, all other roads are good for us :) . There where couple of times where we had to put our feet in that ice-water & it was a current passing through the body. At a small break. Wherever we halted for couple of minutes, each of us where mesmerised by the heavenly beauty around us. River flowing by, mountains surrounded.
vowww..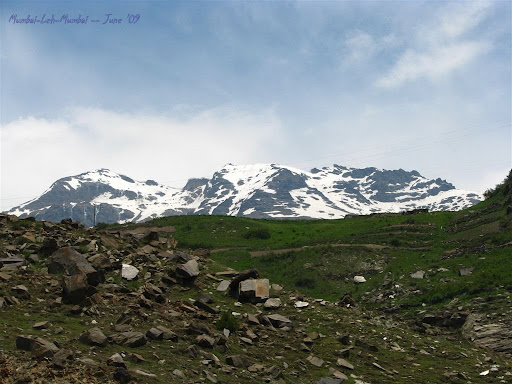 hehe
da Snow mountain, Gopi & the terrain..
Suddenly after a while of riding, we saw a petrol pump & urgently stopped to full up our tanks. Then we discovered, this is TANDI & the last petrol pump for next 365 kms. So had to fill up our tanks to whatever space was left. Here we also found that same foreign couple on their Kawasaki motocross bikes.
Fill it up guys here.. This petrol pump is uncertain, hence we had done a tank full from Manali
Re-fuelling, the swiss couple on their Kawasaki 650cc Motocross
On some distance we found small stalls, where we had food nicely & headed ahead..
Riding for a while the nature forced us stop as after a while we located again a wonderful river bed passing by. FYI : This river was with us throughout our journey in the himalayas from manali perhaps. I think it is Zanskar. We cannot afford to miss this kind of unseen places & hence a stop is compulsory. Dont know when we will be back, so just trying to utilize the moment at its best. None of us where bothered about leaves, Gopi was telling "I will be fired as I join my office back..!". So some pix on the way.. We took our bikes down on the river bed & had a lovely time.
This is where we came down
prasad
Winzeee's sincere Pulsar
Winzee sitting alone without his bike.. got too emotional
Going strong bulleettttt
i dont wanna go back..
now, what makes my hair stand up..??
now, loooking cute,. ;)
missed a beer here..
A real example of existence of GOD
Where else would you see this..
dont know where gopi clicked this pic, but somewhere around
above the sky..
sexyyy...
We resumed the ride, as Darcha was little away now where we had to take the halt for the day & even the sun will go down in a short time. Here, the day light stays till 8pm.. Unbelievable.. Believe it..!! :)
Finally, we reached a small village where could see some tents. It was a place called "DARCHA". This was our tonights destination & place to halt.
DARCHA is around 150kms away from Manali & on an altitude of 12000fts. The landscapes here are awesome. There are few tents here we beds are available on a sharing basis & food one can get is Parotha, Maggi, Egg & RUM
;).
River around
isnt that awesome
Darcha Village
We checked out few places & finalized on one tent which was looking good enough. Managed to get the bed for Rs.50 per bed which was extremely cheap. They provide you with a wonderful blanket which is good enough to keep you
Dont expect any toilets around, the best place is the open nature for a nature call. We unloaded our luggage from the bikes. All of us where damn chilling, i was freezing with cold. I was not feeling good, my health was not in a condition. Was feeling dizzy, head was spinning & badly shivering. I took the blanket over & went to sleep for a while. All due to altitude. I knew if i took rest for little while, will feel good & this is a good place to stay & get the body acclimatised. While took some sleep, our own Mr. Prasad & Gopi decided to have the stocked Rum in a special way. In this freezing cold & heavy winds passing by they literally went on the riverside. Didnt carried any water, they decided to have the rum with the Himalayan water.. Yes, they took the water from river, coke & had the rum. It was indeed a pleasure for them. These two are real strong fellas.
da Monk
They came back to the tent to wake me up & yes, I was filling little better now. I had some maggie & egg. Chatted for a while & dozed off.
So the sun is going down.. Let us sleep..!! :P
Our next days destination was PANG. On the way the mighty freezing cold mountain "Baralacha La" was waiting for us with its Icicles.
Next :
Day 8th : 13 June 2009